Prescott Steel and Welding Supply is a full service supplier of wrought iron materials, ornamental fixtures, wrought iron fence panels, gates, posts, steel tubing in both cold roll and pre-galvanized, expanded and perforated metals, flats, channels, rounds, solids and tubing.
Wrought iron offers a wide range of decorative and utilitarian uses. Wrought iron is used to create internal and external gates with remote controlled gate automation, balustrade and handrails, security doors, grilles and an exquisite and in-exhaustive range of handcrafted tables, chairs, forged iron beds and a wide range of home décor items such as lighting and door handles to enhance your indoor and outdoor living.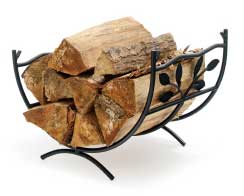 Wrought iron work can be stunning in it's beauty. The rustic look demands wrought iron and it is believed that nothing else can express strength in decorating as wrought iron. Wrought iron comes in all sizes of square, round and flat bars to meet every kind of requirement.
Wrought iron is more defined by the process than the material. The word wrought helps to outline precisely what wrought iron is…. Wrought means any metal, which is hammered, twisted or bent into shape. Wrought iron has been the material preferred by many artists. There are intricate designs on doorways, fences, and home furnishings. People have used wrought iron for their artwork for over 5000 years.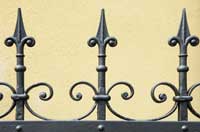 Wrought iron is tough, malleable, less fusible, and usually has a fibrous structure. Wrought iron is used mostly in ornamental ironwork, such as fences and handrails, because it is welded or painted easily and it rusts very slowly.

Wrought iron is produced directly from ore usually without being melted. The Catalan process, which originated in about 1300 A.D. in Catalonia, Spain, represented a major advance in the manufacturing of wrought iron. The process was used until the late nineteenth century.